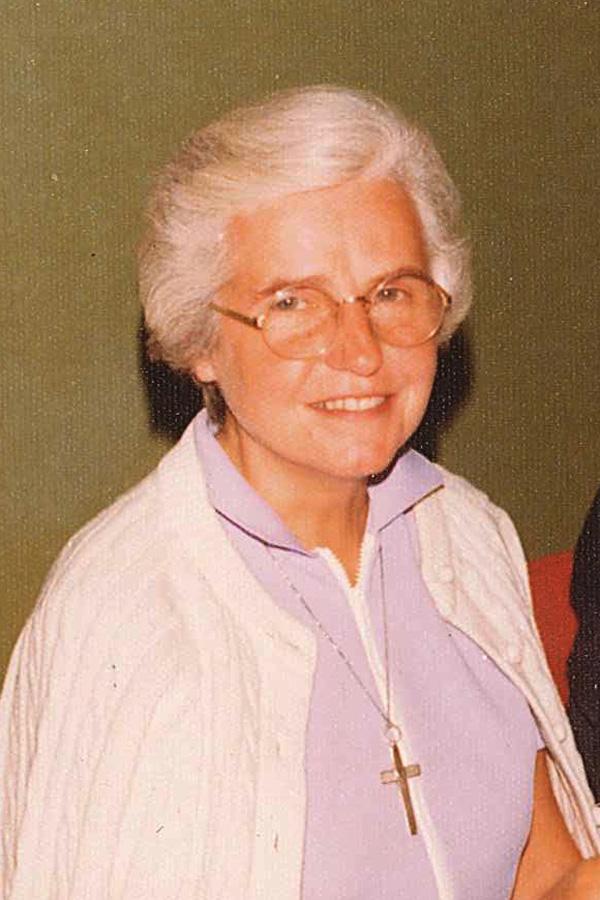 Birth: April 11, 1920
Profession: July 30, 1950
Death: July 2, 2011
Margaret Mary Coakley, RSCJ, who walked with many women as they began their lives as Religious of the Sacred Heart, died Saturday, July 2, 2011, at the age of 91. Intelligent, passionate and dedicated to a more just world, she was a woman who cared deeply about others. Her charismatic leadership helped to forge new paths for the Society of the Sacred Heart following Vatican II, including a renewed focus on ministries to the poor.
A funeral Mass will be celebrated in New York on Friday, July 8, at 11:00 at Mary Manning Walsh Home, 72nd and York. Burial will be at the Society of the Sacred Heart cemetery in Albany.
Sister Coakley – who was known to her friends as Mavi – was born April 11, 1920, in Cleveland, Ohio. Her parents were John A. and Marie Louise Beckman Coakley. Her brothers John, Jr., Henry, Thomas, William, Joseph and, and her sisters Mary V. Morton, Agnes Power, Ann Egan and Tish O'Neil all preceded her in death. She is survived by numerous nieces and nephews.
Sister Coakley entered the Society of the Sacred Heart at Kenwood Convent in Albany, New York, in 1942 and professed first vows in 1945. She made her final vows in Rome in 1950.
An educator to the core, Sister Coakley spent several years in the classroom, but it was in her role as mistress of novices (1959-67) that she influenced future generations and earned the boundless devotion of her fellow religious. She also served the Society of the Sacred Heart as provincial of the former New York Province, 1968-74.
Her educational experience included teaching at Sacred Heart schools in Grosse Pointe, Michigan, and Providence, Rhode Island, and at Kenwood. She also served as mistress general and superior at the Convent of the Sacred Heart at Noroton, Connecticut.
In 1976, Sister Coakley joined the national staff of the Theology in the Americas project in New York, where she edited and published scholarly works, especially in liberation theology. It was her experience there that led her to the Women's Coalition to Stop U.S. Intervention in Central America, where she worked 1983-85.
From 1985 to 1994, she served as assistant director at the Center for Educational Design and Communication in Washington, DC, a ministry of the Society of the Sacred Heart. She then began a ministry in 1994 – when she was well past usual retirement age – coordinating escorts for senior citizens in New York City to assist them with their errands.
Active ministry ended in 2006, when Sister Coakley was seriously injured when struck by a car.
Sister Coakley was a product of a Sacred Heart education, with high school at the Convent of the Sacred Heart in Noroton, Connecticut, and a Bachelor of Arts degree in math and music from Manhattanville College. She also earned a Master of Arts degree in religious guidance and theology from Providence College.