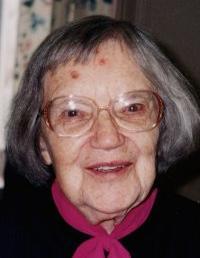 Birth: Mar. 10, 1911
Profession: Feb. 10, 1938
Death: Jun. 30, 2010
Gabrielle Husson, RSCJ, educator, college president, and community contributor, died June 30, 2010, at Teresian House in Albany, New York.
From 1955 to 1968, Sister Husson served as president of Newton College of the Sacred Heart in Newton, Massachusetts. During her administration, the college more than doubled its enrollment, established a program funded by the Ford Foundation for disadvantaged high school girls, and introduced a study of theology that incorporated a broad spectrum of theological positions while sustaining its Catholic orientation.
Sister Husson joined the Religious of the Sacred Heart in 1929 at Kenwood in Albany and made her final profession in 1938 at Villa Lante in Rome. She received her B.A. in chemistry, with a minor in education, from Manhattanville College, Purchase, New York. She also earned an M.A. in english from Boston College and an M.A. in religious education from Providence College.
Before retiring to Albany, Sister Husson was active in community organizations in and around the Boston area including Cambridge Residents Against Crime, the Cambridge Council on Aging, and the Banking Committee of St. Pauls' Church, Cambridge.
She was born in Rochester, New York, in 1911; her parents, both deceased, were Gustav Husson and Alice Glennon Husson. Sister Husson is survived by her half-brother Christopher Husson of Pittsford, New York Her sister Alice, also a Religious of the Sacred Heart, passed away in 2007.
A Memorial Liturgy will be celebrated for Sister Husson in the Teresian House Chapel on Wednesday, July 7, 2010 at 10:00 AM. Interment in the Kenwood Convent Cemetery will follow the liturgy. Memorial contributions may be made to the Society of the Sacred Heart, 4120 Forest Park Avenue, St. Louis, MO 63108.