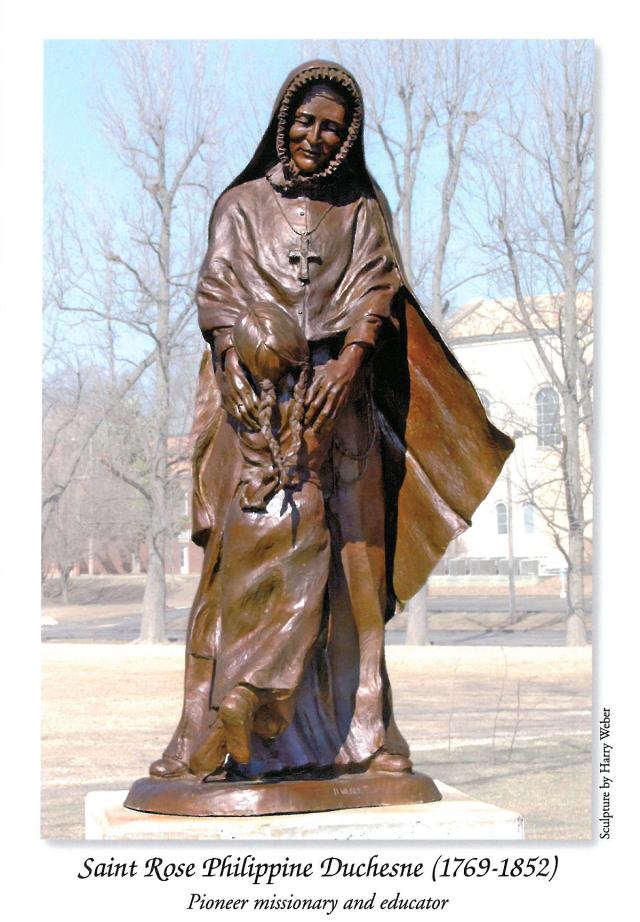 The whistle is blown to signal a goal being made. A huge smile appears on the athlete's face. It's the first goal she's ever made. Maybe all those long practices and extra work really did pay off. In the music room, a student is practicing for her role in the spring musical. She finally hits that high note after staying hours after school with her teacher working on it. No matter what age, every child of the Sacred Heart strives to do their best and is willing to put their entire heat and soul into each project they are involved with in order to feel that sense of achievement and accomplishment after a job well done. One of the most valuable things that Sacred Heart gives us is a sense of determination. We learn from Sacred Heart that in order to succeed in life and be happy with ourselves, we must keep striving and working towards what we want and with hard work and faith, anything is possible.
One trait that Saint Philippine Duchesne possessed that is impossible to ignore is her strong sense of determination.In Scripture, Job offers the image of "putting forth branches like a young plant." This image is calling us to act like Philippine did and use our own determination, that Sacred Heart has fostered in each of us, to impact the world around us. It is calling us to reach out our own branches to those suffering in our world. Whether it is giving children an education like Saint Philippine did, feeding the homeless, or something as simple as being a caring and helpful friend - we are all called to put forth our own branches in this world and to develop a desire to help those around us. If we apply this image to Philippine, we can see her as the young plant and all of the Sacred Heart schools as the branches that she has put forth. Branches that will continue to grow and grow - continuing to branch off and help other people. We, as children of the Sacred Heart, share these common roots with Philippine - of determination, strength, and compassion. We are not only given an extraordinary education, but we are also taught these important values, and we are formed into individuals with self-confidence to be as strong and as determined as Philippine was to accomplish our own goals and to put forth our own hopes and dreams - our branches.
Philippine lived her life serving those around her. We, as Sacred Heart students, follow this same path every day. We have not only inherited her sense of strong determination, but also model her life of service and action. Not only striving to better ourselves but also the world around us.
Philippine's legacy has left an indellible mark upon our school. Each of us has developed the seeds of determination, courage, strength, and service which Sacred Heart holds so dear. All of us, whether we are students, teachers, staff, or alumnae at Sacred Heart, are the branches that Saint Philippine has set forth. By continuing to live the traditions of Sacred Heart, we are continuing to live the legacy that Philippine left behind and ensuring that it will never be forgotten. By being children of the Sacred Heart, we will always hold Philippine's values in our hearts and her legacy and mission will never be forgotten.
Michelle Spera, Convent of the Sacred Heart, 2011