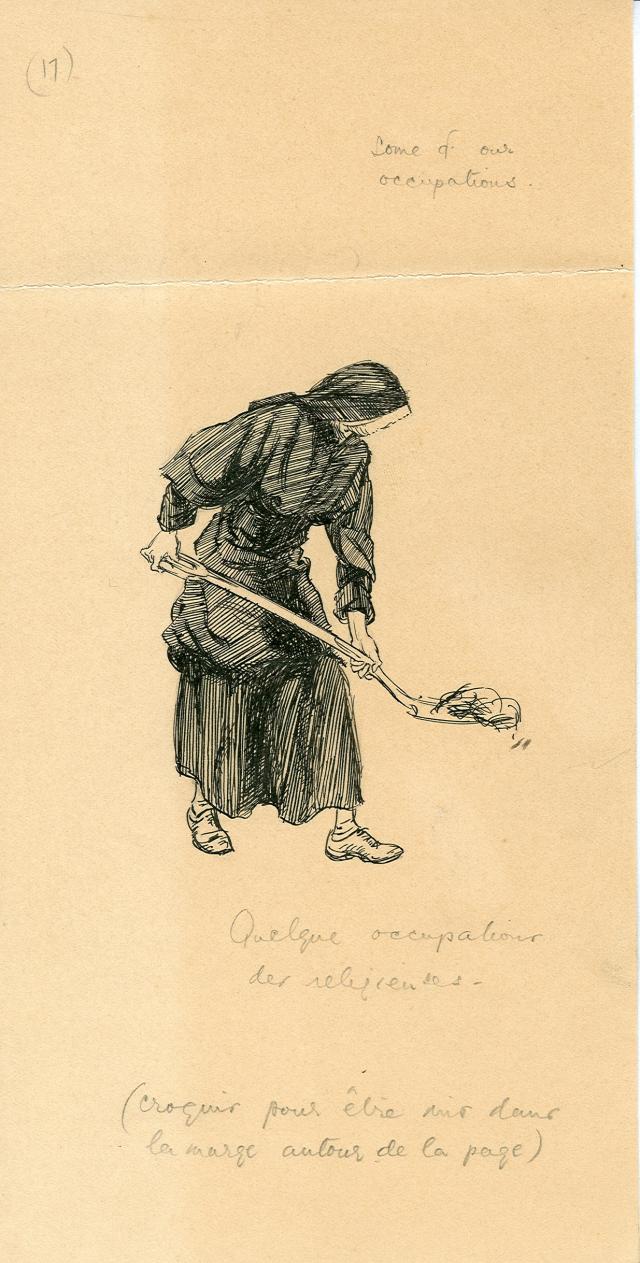 I was impressed by the strength and kindness of Mother Duchesne's character. She had a great love for little children, gathering them around her whenever possible, thoughat this time she spoke very little, and very broken, English. The girls all loved to be with her. Though times were hard and provisions often very scarce, the children had the best that could be procured, and every Sunday, as a special treat she took us to the pantry, where each could choose for goûter what she liked best in the scanty larder. The favorite delicacy on these occasions was usually huge sour cucumber pickles.
She was interested in all our games, too, and personally arranged little dramas to be acted in the school room. These plays were all adapted from familiar Bible stories. What they lacked in proper costuming and scenery was made up for by the earnestness and interest of the little actors, inspired by Mother Duchesne. She was often very original in the methods she used with us; for example, in winter when she feared the children might catch cold from kicking off the bedcovers, she had them sewed up like a bag.
She was an excellent needlewoman and taught the children sewing; her darning was especially beautiful. She also taught them to make the soft shoes worn by the religious. Her days were spent in unending labor. The rising sun found her in the garden, digging, planting, or gathering the ripened fruit and vegetables. On washdays she hung out the clothes, took them in, and sprinkled them so they would be ready for those who were to do the ironing. Besides her manual labor, she taught the higher classes several hours each day and found time to read aloud to her little community. Holidays found her in the convent parlor making vestments for the altar, and canopies and banners for the many processions that used to take place in the little church and village. No work was too hard for her, and no matter how much there was to do, nothing, however small, was neglected. No matter how crowded the day with busy tasks, she found time for many little visits to the chapel . . .
I was with her a great deal. Being the youngest in the school, my hours of class were short. Nothing made me happier than to plod along beside her in the garden, picking up the potatoes as she dug them and listening to her quaintly told stories of France and the convents there, of the children in that land which seemed so far away. Then often her stories would be about people in the Old and New Testaments. She was a noble and brilliant woman, but withal as simple as the child who followed her along the potato row."
Reminiscences of Ellen Mullanphy Chambers, (La petite Chambert, as Mother Duchesne called her) – written in her later years