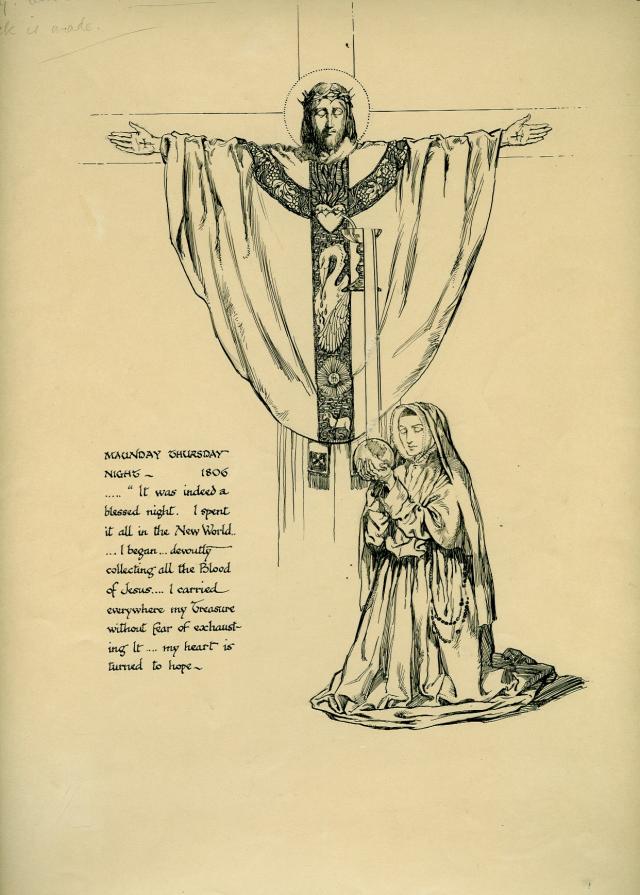 Rose Philippine Duchesne can be viewed as a teacher of prayer for today. Her Holy Thursday all-night adoration was a way of mediating Christ's heart to the wounded heart of humanity.        
Philippine was given a Holy Thursday experience: an all-night adoration of the Blessed Sacrament on April 3, 1806. Philippine was drawn to intercede for the wounded heart of humanity. Let us try to imagine Philippine in the context of her nineteenth-century French spirituality, with her heart's overwhelming desire to be sent to the Native American people. Let us hear what Philippine wrote of that night to Madeleine Sophie:
All night long I was in the New World, and I traveled in good company. First of all I reverently gathered up all the Precious Blood from the Garden, the Praetorium, and Calvary. Then I took possession of our Lord in the Blessed Sacrament. Holding him close to my heart, I went forth to scatter my treasure everywhere, without fear that it would be exhausted. St. Francis Xavier helped me to make this priceless seed bear fruit.....      The twelve hours of the night passed rapidly and without fatigue... And then I found myself alone with Jesus–alone, or surrounded by dark, uncouth children–and I was happier in the midst of my little court than any worldly prince. Dear Mother, when you say to me, "Behold I send you," I shall answer quickly, "I will go."[1]   
Philippine's way of contemplating Christ's heart was through the wounded heart of humanity. Even though her images of his precious blood and her theology of his merits might not speak to all of us, her missionary zeal to reveal God's personal love to the poorest of the poor throughout the world resonates with our preferential option for the poor and our listening attentively to the signs of our times as deeply and as urgently as Philippine perceived the signs of her times.
Louise Vidaud, a former student at Sainte Marie d'en Haut who later became a Religious of the Sacred Heart, wrote a description of Philippine which recounts Philippine's spirit of prayer and devotion to praying the whole night of Holy Thursday.
She taught us to offer all our actions to God. . . Her words had all the more influence with us because they were accompanied by such great virtue. An angel in adoration in the church would not have impressed us more, so reverent and recollected was she at prayer. Kneeling on the floor, upright and without support, hands clasped, she remained motionless for hours. One felt the presence of God in her. Besides the holy hours of prayer at night, which were the ordinary thing with her, each year she spent the entire night of Holy Thursday to Good Friday rapt in adoration before the Blessed Sacrament. Aloysia Rambaud, who often noticed her in the chapel as late as ten o'clock in the evening, and found her in the same place next morning, cut tiny bits of paper one Thursday night and dropped them on the skirt of Mother Duchesne's dress before retiring. "If she moves," the little imp remarked overtly, "the papers will tell me so." Hurrying to the chapel early Friday morning to gather evidence, she found the good Mother in the same posture, the papers undisturbed, so the whole night had been spent motionless. It is easy to understand why we considered her a saint (Callan 114)!
How do I feel drawn to mediate Christ's pierced heart to the wounded heart of humanity?
Annice Callahan, RSCJ
---
[1] Philippine Duchesne's April 4, 1806 account of Holy Thursday, to Madeleine Sophie Barat, in Louise Callan, RSCJ, Philippine Duchesne: Frontier Missionary of the Sacred Heart, Abridged Edition (Westminster, Md.: Newman Press, 1965), pp. 97-98.