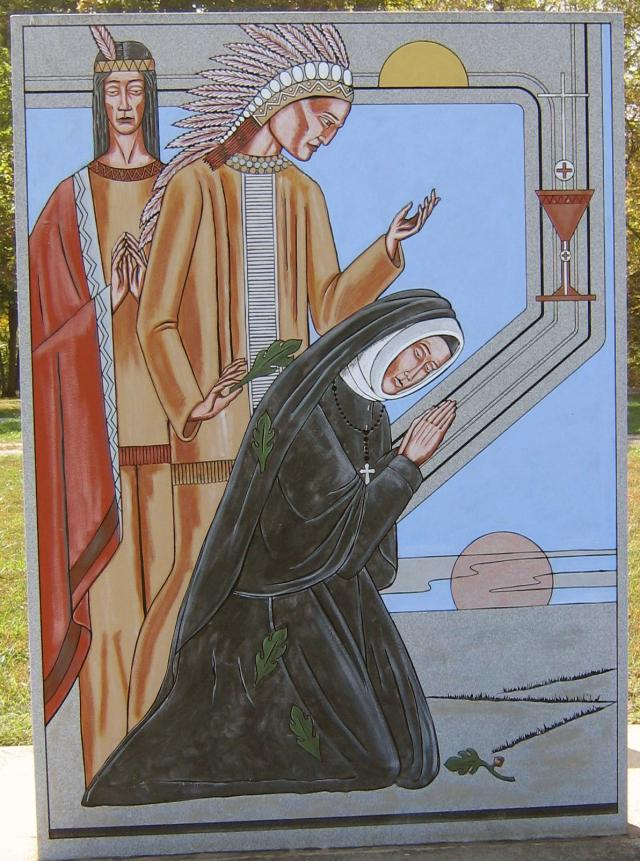 she was waiting for me, there, in Sugar Creek
This past June, eight of us Religious of the Sacred Heart, celebrated the 50th anniversary of our First Vow in the Society at the Academy of the Sacred Heart in St. Charles, MO. This had special meaning for me as I grew up from first to twelfth grade in this holy place, where a lovely shrine contains the relics of St. Philippine Duchesne. The nuns always reminded us how blessed we were to go to school on the very grounds "where a saint had trod," to quote our school song.
One of the highlights of our celebration was to make the trek to Sugar Creek, Kansas, where Philippine at last realized her burning desire to work among the Native Americans. Devotion to our Saint is strong in the area and the site of the reservation has been preserved as a park.
I found myself sitting on a stone that the signage indicated was a place outside the cabin where Philippine herself often sat in prayer and meditation.
How I wish I could find the words that would tell of my experience there. I felt a deep sense of peace and inner quiet and I had an overwhelming sense that she had been waiting for me there. I began to talk to her, not as I did as a child telling her of my many needs and childhood worries, nor as a young woman poised soon to enter the Society of the Sacred Heart. Rather we spoke as sister to sister; friend to friend. This time, my concerns revolved around the women I am accompanying as they discern a call to religious life in the Society. We spoke of each one individually. We spoke of what it means to be "women of the heart" and what it means to be "women who pray always."
What a precious way for me to celebrate my 50 years as a Religious of the Sacred Heart! Such a grace! - that she was waiting for me, there, in Sugar Creek!
Mary Pat White, RSCJ