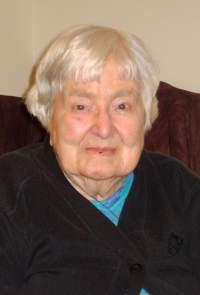 Birth: Nov. 28, 1911
Profession: Feb. 11, 1941
Death: Oct. 2, 2010
Death of Eileen O'Gorman, RSCJ, revered English professor
Eileen O'Gorman, RSCJ, revered English professor and champion of literature and the literary arts, died peacefully at Teresian House in Albany, New York, on October 2, 2010, at the age of 98.
Born in Boston, MA, on November 28, 1911, she was the daughter of Gaynor Ignatius O'Gorman and Mary McDermott O'Gorman. She attended Kenwood Academy of the Sacred Heart where she received the coveted Prize of Excellence. After graduation, she entered the Society of the Sacred Heart at Kenwood in Albany and pronounced her final vows there on February 11, 1941.
Sister O'Gorman received her B.A. in English from Manhattanville College in 1943. She received her MA in 1949 and her PhD in 1955, both in English, from Fordham University. She had a special interest in Irish Literature and completed her dissertation on Anglo-Irish Relations in the Seventh Century.
In 1935, Sister O'Gorman began her teaching ministry, which continued for the next seventy years. She taught at Sacred Heart academies in Newton, MA, Providence, RI, Detroit, MI, and New York City. In 1946, she joined Manhattanville College of the Sacred Heart as a Professor of English and held that position until 1981. She was described as a "formidable" teacher with a tough mind and a tender heart who mentored many students in their lives and careers.
In addition to her position in the English Department, Sister O'Gorman served in the Manhattanville Public Relations Department beginning in 1957. From 1962 to 1963, she left Manhattanville to go to Kenwood to assist with curriculum development for the Sacred Heart educational system. Her background in curriculum was further strengthened in 1967 when she was awarded a M.Ed. from Harvard University. Sister O'Gorman later assumed supervisory positions in the teacher education department at Manhattanville during its formation.
Throughout the 1970s, she was a frequent presenter at the "Mornings at Manhattanville" lecture series. In 1978, when professors were required to retire by age 65, the still vibrant Sister O'Gorman, together with Ruth Dowd, RSCJ, and two other retired RSCJ, Cora Brady and Adele Fiske, founded Barat House, where they lectured in their respective areas of expertise.
In 1983, Sister O'Gorman assisted in the creation of Manhattanville's Summer Writers' Week, a thriving program that continues today. In 1991, she was instrumental in the foundation and accreditation of the Masters of Arts in Writing at Manhattanville College.
On November 20, 2003, the Dowd - O'Gorman Writing Center at Manhattanville was dedicated to honor the significant influence of Sisters Dowd and O'Gorman in the field of writing. On May 15, 2004, in recognition of her achievements and service to the community, Manhattanville College awarded Sister O'Gorman the honorary degree of Doctor of Humane Letters. She continued to teach programs for Barat House until her retirement, in 2005, to the Pax Christi Community at Kenwood.
Sister O'Gorman is survived by her sister Mary C. O'Gorman of Milton, MA, several nieces and nephews, many friends, and her RSCJ community.
Manhattanville College president Molly Easo Smith said: "Sister O'Gorman will be missed by faculty, students, and alumni; those who knew her revered her wit and admired her wisdom. As we mourn our physical parting from one who played a key role in the life of the College, we also accept with love the many gifts she left us for stewardship and sustenance hereafter, among them a signature Master of Arts in Writing program." A Memorial Mass will be celebrated on Tuesday, October 12, 2010 at 4:00 p.m. in the O'Byrne Chapel at Manhattanville College in Purchase, NY.
A Mass of Christian Burial will be celebrated at 11:00 AM on Wednesday, October 13, 2010 in the Teresian House Chapel in Albany followed by interment in the Kenwood Convent Cemetery. Memorial contributions may be made to the Society of the Sacred Heart, 4120 Forest Park Avenue, St. Louis, MO 63108.